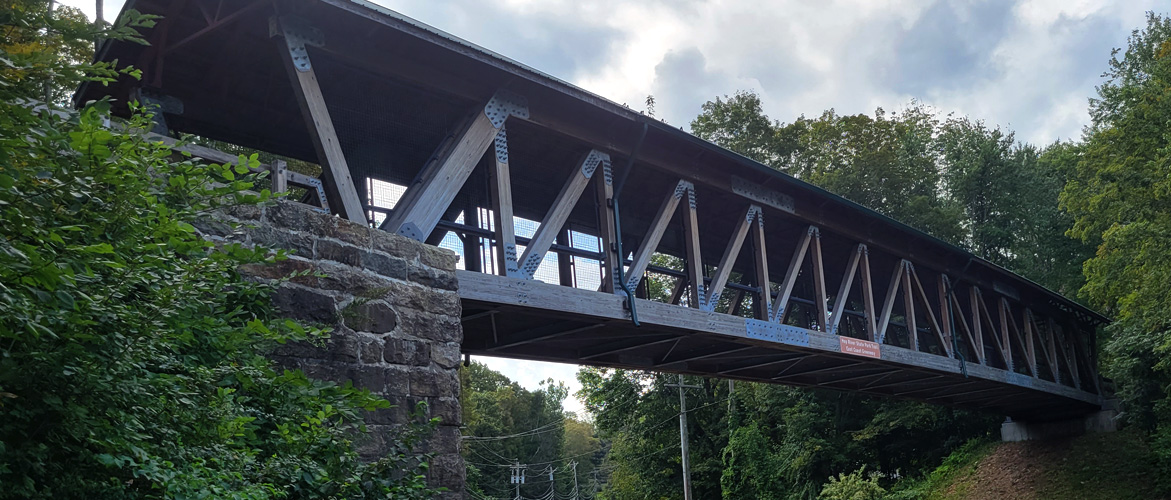 Agriculture, animals, arrowheads and antiques...
The Andover Ecclesiastical Society was formed in 1747 and eventually became the town of Andover, in 1848. Its early municipal buildings are still visible along Route 6, which serves as a "Main Street" and is lined with historic homes and sites. US Route 6, the Hop River Corridor, has been improved and now provides safe, convenient access to Hartford via I-384, and is also a direct route to Providence, RI. This corridor also has historic significance as a waypoint and camp on the 1781 march of French General Rochambeau's army from Newport, RI to join Washington's Continental Army, which culminated in the victory for American Independence at Yorktown, Virginia. The march and camp are commemorated on Hendee and Hutchinson Roads.
Cyclists, hikers and cross-country skiers take advantage of the adjacent Hop River Trail, which runs from Willimantic to Bolton Notch. A rails-to-trail conversion, it connects with other trails to form part of the East Coast Greenway. The trail is readily accessible across Route 6 from the Andover Congregational Church.
The Andover Historical Society Museum is located at Monument Lane on Route 316 and is open from 10:00 a.m. to 4:00 p.m. on select Sundays which are announced in the River East News Bulletin. When the museum is not open, much of Andover may be seen as a museum with private and unspoiled rural and historic resources. Agricultural enterprises include equestrian, horticultural, silviculture, herbs and textiles, crafts, plants, flowers, beef cattle and historic farms. Brochures are available at the Andover Town Hall, as well as at each of the farm/stores.
Andover offers youth baseball and soccer on Long Hill; active Boy Scout and Girl Scout programs; community dinners at the Congregational Church and Fire Department; a Breakfast and Library Book Sale in May, periodic Historical Society presentations and Fall and Spring plant and tag sales.
Town Info
Andover Town Hall:
17 School Road
Andover, CT 06232
Phone: 860.742.7305