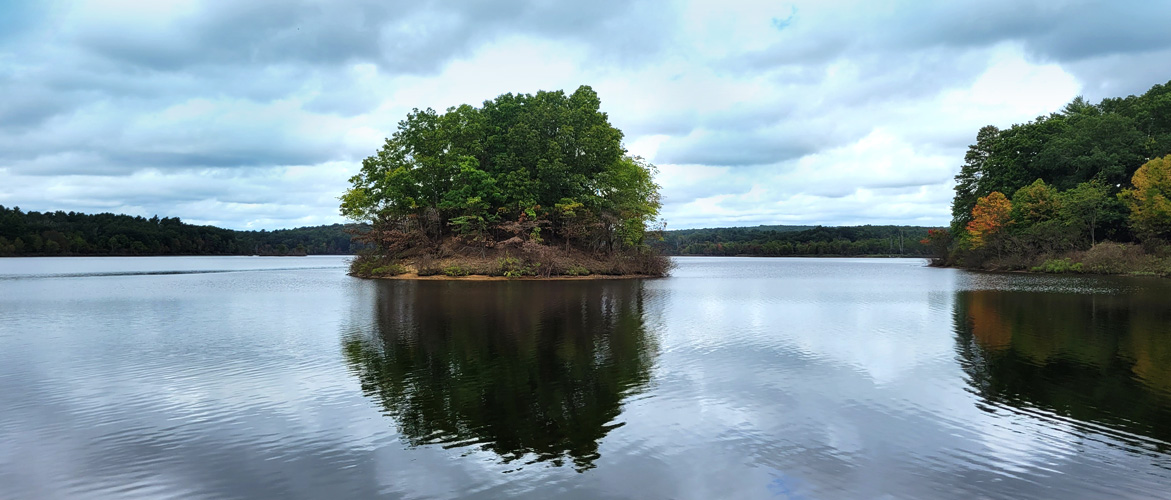 Home of the University of Connecticut Main Campus.
Within Mansfield's rolling hills and river valleys are sixteen historic villages. The stonewalls throughout the town are reminiscent of Mansfield's agricultural past. In 1881, Charles and Augustus Storrs purchased an abandoned Civil War Orphanage and presented it, with funds, to the State of Connecticut to found an agricultural school. Over the next five decades, this school blossomed into the University of Connecticut, one of the largest employers in Eastern Connecticut and is rated top public university in New England by U.S. News and World Report.
The Town of Mansfield owns and maintains over 2000 acres of parks, preserves, open space, and agricultural land providing the residents of the town and region with numerous hiking, kayaking, canoeing, walking and biking activities. Mansfield's parks and preserves range in size from 6 to 486 acres and offer trails wandering through woodland's, wetland's, river corridors, grasslands, rocky slopes, and scenic valley overlooks. Many of the Town's preserves connect with natural areas owned by other organizations, creating a tapestry of rural Connecticut preserved for generations. Free downloadable maps of Mansfield's Parks and Preserves are available online at www.mansfieldct.org/trail-guides.
Mansfield is home to a variety of restaurants and shops. The new downtown includes a town square with regularly scheduled events for all ages. See www.mansfieldct.gov/downtownpartnership for a list of on-going events on the Square and in Mansfield.
Mansfield Hollow State Park is one mile east of Mansfield Center off Route 89. Activities include boating, fishing, hiking, field sports, picnicking and cross country skiing.
Wolf Rock and Nipmuck Trail - Along the south side of Browns Road and Crane Hill Road is Wolf Rock. Walking along the Nipmuck Trail through the deep shade of dense oak woods, one climbs a long granite escarpment that opens to a beautiful view of the valley of Sawmill Brook over a forty-foot cliff. Wolf Rock is a glacial boulder approximately two yards in diameter perched on the lip of the cliff. Follow the trail north to the Gurleyville Gristmill.
The Gurleyville Gristmill is a 19th Century stone mill built at the site of a 1724 mill, in the historic village of Gurlyville. It is open to the public with interpreters as guides every Sunday from noon to 4:00 p.m. beginning the Sunday after May 15th through the Sunday of the October Columbus Day weekend. Group tours can also be arranged on other days.
William Benton Museum of Art at the University of Connecticut, is open to the public Tuesday through Friday from 10:00am to 4:30pm; weekends from 1:00pm to 4:30pm. The Store and Beanery are open Tuesday through Friday from 8:30am to 4:00pm and weekends from 1:00pm to 4:00pm. Docent led tours of the Benton exhibition may be arranged at least 2 weeks in advance. Tour groups should be at least 5 persons. Most tours last 45 minutes but special needs and requests are always considered. Admission is free. Call (860) 486-4520. 
Mansfield Historical Society Museums are located on route 195, one mile south of the University campus. They are open Thursday and Sundays from 1:30pm to 4:30pm during the summer months.
Jorgensen Auditorium at the University of Connecticut offers more than 40 performances from September through May. Jorgensen hosts professional touring attractions for every taste, ranging from Broadway musicals to symphony orchestras, recitals and chamber concerts, dance, opera, pop, country, jazz, cabaret, multicultural and children's events. Box office number: (860) 486-4226.
University of Connecticut Campus Tours - Guided tours are available several times daily except during major holidays, the first 2 weeks of September and Commencement Week. Call the Lodewick Visitor Center: (860) 486-4636.
Ballard Puppetry Institute - Located in downtown Storrs at 1 Royce Circle. Open Tuesday through Sunday from 11:00am to 7:00pm. Contact number: (860) 486-8580.
UConn Dairy Bar -  Enter at Dairy Sales driveway on Route 195 near intersection of North Eagleville Road. Open Monday through Friday 10:00am to 5:00pm and weekends from 12:00pm to 5:00pm.  For more information call (860) 486-2634.
Town Info
Mansfield Town Hall:
4 South Eagleville Road
Storrs/Mansfield, CT 06268
Phone: 860.429.3302