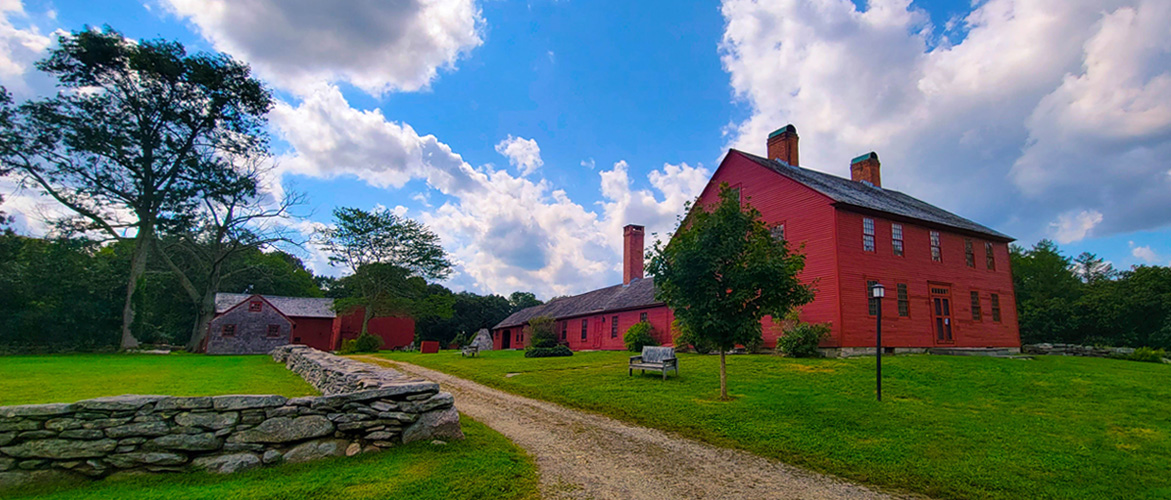 The Gateway to Northeastern Connecticut's "Quiet Corner"
Coventry was incorporated in 1712 and traditionally has been an agricultural and industrial community. Many manufacturing mills which were active in the 19th and early 20th centuries existed along the rivers of town. Later, the town became a tourist destination when many vacation homes were developed along the shores of Coventry Lake. The town has seen some significant residential growth in recent years but possesses a strong world character. 
Coventry is the birthplace of Nathan Hale, whose patriotism during the American Revolution distinguishes him as Connecticut's official state hero. Visitors from around the world enjoy the Hale Homestead (2299 South Street), an operating museum celebrating the Hale family. Coventry is the home of the Nathan Hale Ancient Fife and Drums, which performs regionally and holds a Colonial Encampment and Muster at the Hale Homestead. Other events at the Homestead include a celebration of Captain Hale's birthday, walking tours and a corn maze.
Coventry hosts the Vietnam Veteran's Memorial that contains the names of all 612 Connecticut military personnel who gave their life during that conflict. It is located on the Veteran's Memorial Green, Lake Street.
The Visitor's Center, located on Route 31 offers maps, postcards, souvenirs and information. It is part of the Historic South Coventry Village, offering a variety of dining and antique shopping establishments and possessing a rich industrial history.
The Booth & Dimock Memorial Library is located at 1134 Main Street and offers many innovative programs for children, teens and adults.  For information visit www.coventrypl.org. 
The Coventry Historical Society maintains the Strong-Porter House (c. 1730) at 2382 South Street, just west of the Nathan Hale Homestead, which serves as the Historical Society's Museum. The Brick Schoolhouse (c. 1823-25) is located at the intersection of Merrow Road and Goose Lane. 
A popular and vibrant Farmer's Market takes place on the grounds of the Nathan Hale Homestead every Sunday from 11:00 a.m. to 2:00 p.m. June through October and indoors at the Coventry High School from late November through February. For more information, visit www.coventryfarmersmarket.com.
Cassidy Hill Vineyard, 454 Cassidy Hill Road, is a boutique winery offering wine tasting, vineyard walks and a summer concert series.  www.cassidyhillvineyard.com.
Looking for unique lodging? Try Special Joys Doll & Toy Museum, a Victorian-style toy shop at 41 North River Road which is also a Bed and Breakfast. Call (860) 742-6359 or visit www.bestofnewengland.com/specialjoys.  For colonial charm, stay at the Daniel Rust House, 2011 Main Street, established in 1800. Call (860) 742-0032 or visit www.thedaniel-rusthouse.com.
Coventry possesses many open space properties with hiking trails. Some offer other recreational opportunities such as fishing, hiking, canoeing and nature viewing. The Nathan Hale State Forest is over 1,500 acres of woodlands. Other properties include: Thornton Brook Preserve, Riverview Trail Park, Mill Brook Park, Patriots Park Woods, Laidlaw Park Trail and Creaser Park.  For more information visit www.coventryrec.com.
There are 2 golf courses in Coventry: Skungamaug River Golf Club on Folly Lane, call (860) 742-9348 or visit www.skungamaug-golf.com; and Twin Hills Country Club on Route 31. For more information call (860) 742-9705 or visit www.twinhillcountryclub.com.
Patriots Park (124 Lake Street) consists of 17 acres on Coventry Lake with a community center and lodge available for group rental.  It also features a playscape, pavilion, band-shell, picnic area with grills, canoe and kayak rental and free parking. The bench is open from mid-June until Labor Day. Parking fees apply. See www.coventryrec.com for more information about Coventry's other parks and recreational amenities.
Coventry Lake is the place for swimming, boating and water-skiing with a state-owned boat launch at the south end of the lake just west of the entrance to Patriots Park. The Willimantic River is also a favorite spot for canoeing and fishing. For more information, visit www.willimanticriver.org.
Town Info
Coventry Town Hall:
1712 Main Street
Coventry, CT 06238
Phone: 860.742.6324