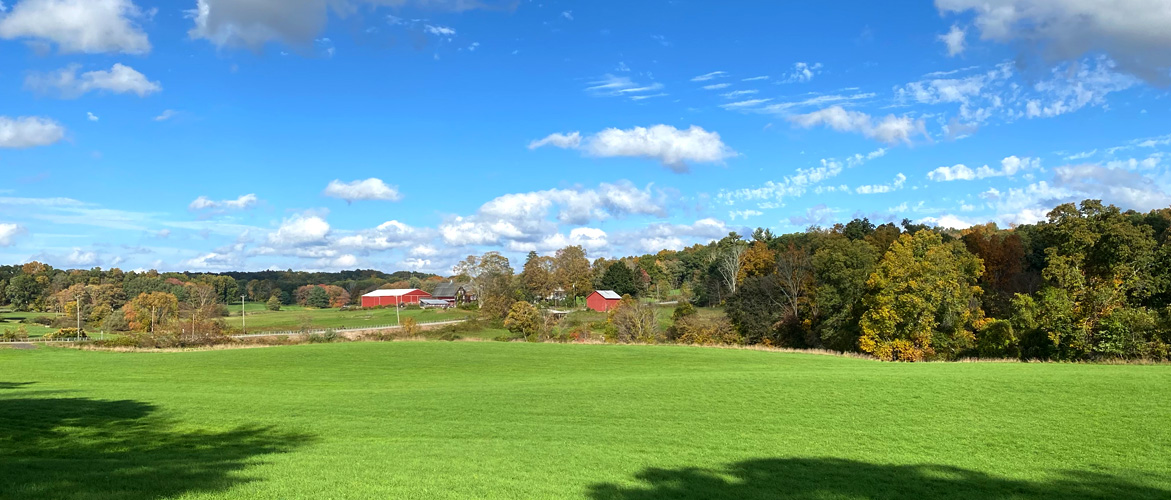 Come Grow With Us
Incorporated in 1708, Hebron's town center now sits at the crossroads of Routes 66 and 85. Today, it embraces the future while honoring the past. Visitors can golf at our 2 country clubs, horseback ride, fish, cross country ski and swim at our many parks, and hike our miles of trails. The whole family will enjoy the fun of an old-fashioned country fair at the Hebron Harvest Fair or watch maple syrup being made at our Maple Fest. Hebron has have fine examples of period architecture, friendly people, and beautiful views. Come visit and experience the best of country life in the 21st century, come to Hebron.
Air Line Trail - Accessible off Route 85 Lumber and Grayville Falls Park. Built in the 1870s, the airline railroad ran diagonally across Connecticut through East Hampton center, just South of Marlborough and continuing through Southern Hebron. Sections of the trail are currently being enjoyed and utilized for hiking, horseback riding, mountain biking, running, etc. Maps are available at the town office building.
Grayville Falls - Town Park built in 1972. Located off Grayville Road, opened from sunrise until sundown. Outdoor facilities for picnic, hiking, etc. 
Gay City State Park - Located on Route 85 near the Hebron-Bolton town line, was established in the early 1960s when the Gay Family deeded land to the State. The site supported several sawmills, textile mills and several hundred families. Remains of these settlements are visible along the hiking trails. The park offers swimming and picnic areas plus miles of maintained trails. Open from sunrise until sundown.
Hebron Veteran's Memorial Park - Located on Route 316 across from Rham High School is a town park established in 1992. The facility offers baseball, softball and soccer fields, a basketball court, playscape and skateboard area. Open from sunrise until sundown.
Holbrook Pond - Located off Route 85 near Hebron center is a State-owned pond. The site offers fishing and boating activities. Opened from sunrise until sundown.
Blackledge Country Club - Located at 189 West Street, offers a 36-hole golf course with 37th-hole and pro shop. For information call 860 228-0250.
Tall Wood Country Club - Located at 91 North Street (Route 85N) as an 18-hole golf course with a 19th hole and pro shop. Call 860 646-1151.
Town Info
Hebron Town Hall:
15 Gilead Street (Route 85)
Hebron, CT 06248
Phone: 860.228.5971